Nickelizing the surface of copper pipe joints
is a process that involves coating the copper surface with a layer of nickel. This technique is widely used in various industries to enhance the performance and durability of copper pipe joints in a range of applications. The purpose of nickelizing is multifaceted, encompassing improvements in corrosion resistance, wear resistance, and overall longevity of the joint. Let's delve into the intricacies of this process and explore how it positively impacts different applications.
Corrosion Resistance: One of the primary reasons for nickelizing the surface of copper pipe joints is to enhance their corrosion resistance. Copper is known for its excellent electrical conductivity and thermal properties, making it a preferred material for many applications, including plumbing, electronics, and heat exchange systems. However, copper is susceptible to corrosion when exposed to moisture, chemicals, and other environmental factors. By nickelizing the surface, a protective layer of nickel is deposited onto the copper, creating a barrier that shields the underlying copper from direct contact with potentially corrosive substances. This is particularly valuable in applications where the pipes are exposed to harsh chemicals, saltwater, or acidic environments.
Wear Resistance: In applications where copper pipe joints are subjected to mechanical stress, abrasion, or friction, nickelizing plays a crucial role in enhancing wear resistance. Nickel is known for its hardness and durability, qualities that can significantly improve the joint's ability to withstand wear and tear over time. This is especially relevant in industries like manufacturing, where copper pipe joints might experience repeated movement or contact with other components. The nickel layer acts as a protective shield, reducing the likelihood of premature failure due to wear-related factors.
Longevity and Maintenance: The combination of improved corrosion resistance and wear resistance provided by nickelizing leads to an extended lifespan for copper pipe joints. In many industries, downtime for maintenance and replacement can be costly and disruptive. By nickelizing the joints, companies can reduce the frequency of replacements and the associated downtime. This is particularly advantageous in critical infrastructure, such as water distribution systems, where the failure of a pipe joint can lead to significant disruptions and expenses. The enhanced longevity also contributes to a more sustainable approach by reducing the consumption of materials and resources.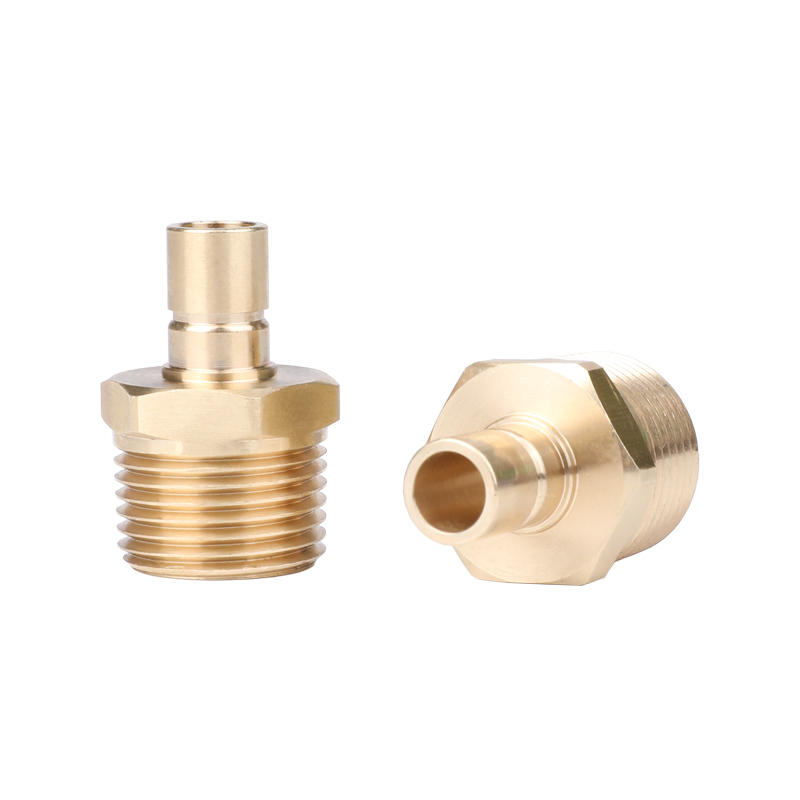 Heat Transfer Efficiency: In applications involving heat exchange, such as HVAC systems and industrial cooling, nickelizing can positively impact heat transfer efficiency. The nickel layer's thermal conductivity helps to maintain the copper pipe joint's effectiveness in transferring heat between the fluid or gas passing through it and the surrounding environment. This can lead to more efficient energy usage and improved system performance, ultimately saving costs and reducing environmental impact.
Compatibility with Various Substances: Nickelizing the surface of copper pipe joints can improve their compatibility with various substances that they may come into contact with. For instance, in industries where pipes carry different types of fluids, the nickel layer can prevent interactions between the copper and the fluids that might lead to contamination or chemical reactions. This aspect is particularly important in industries like pharmaceuticals and food processing, where maintaining the purity and quality of the transported substances is paramount.
Electroplating Process: The process of nickelizing involves electroplating, which is the deposition of a layer of nickel onto the copper surface using an electrolytic bath. This process allows for precise control over the thickness of the nickel layer and its uniform distribution across the joint's surface. The thickness of the nickel layer can be tailored to the specific requirements of the application, ensuring optimal performance while managing costs.
In conclusion, nickelizing the surface of copper pipe joints serves multiple purposes that collectively enhance their performance in various applications. The corrosion resistance, wear resistance, improved longevity, heat transfer efficiency, and compatibility with different substances make nickelized copper pipe joints a valuable choice across industries. The electroplating process involved in nickelizing allows for customization based on application-specific needs. As technology and materials continue to advance, it's likely that nickelizing techniques will evolve, leading to even more effective and innovative solutions for improving the performance of copper pipe joints.